Riot Act, Inc. will be helping with TCL LARP program with combat, costume and acting classes.
_____________________________________________________________________________________________________________________________________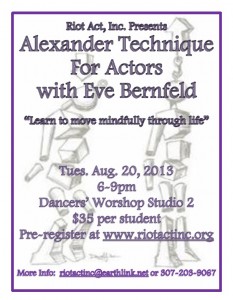 RIOT ACT, INC.'s
Introduction to the Alexander Technique for Actors
A Workshop with Eve Bernfeld, AmSAT Certified Teacher of the Alexander Technique 
Jackson, WY—Riot Act Inc. is thrilled to announce a Alexander Technique Class.  "Learn to live mindfully through life."  Taught by professional Alexander teacher, Eve Bernfeld, the class will run Tuesday August 20 from 6-9pm at Dancers' Workshop studio 2 in the Center for the Arts.  The class is $35 per person.  Register on Riot Act's website www.riotactinc.org or call 307-203-9067.
Spend an evening diving into the work that helps actors (including Ian McKellen, Kevin Kline, Maggie Smith, Paul Newman, Alan Rickman, Emma Thompson and MANY more) to achieve the freedom, power, clarity and excellent coordination that characterizes their great performances.  Additional benefits of the Alexander Technique include helping to prevent (and recover from) injury, improving technique, increasing stamina in the athletic and emotional demands of performing, decreasing stress and improving poise under pressure.  The Alexander Technique is a cornerstone in many theatre programs including the Juilliard School, the Yale School of Drama, the Royal Academy of Dramatic Arts and many others.
This workshop will introduce you to the basic principles of the Alexander Technique.  Through games, movement, hands-on guidance and partner activities, you will explore how the work helps actors to have more control over their own instrument and also how it helps connect to our partners.  Once registered, a scene will be assigned to participants to learn.  So please pre-register. 
Eve Bernfeld spent three years and over 1600 hours training to become a certified teacher of the Alexander Technique.  She also holds an M.A. in Theatre Education and has performed in New York, Chicago, Boston and, of course, her home town of Jackson.  She currently lives in Portland, OR, where she has taught the Alexander Technique at Lewis and Clark College, Pacific University, Lower Columbia College, the Portland Playhouse, Stagecoach Theatre Arts and privately.  
Registration forms and payment by credit card accepted on our website:  www.riotactinc.org.  There must be a minimum of 6 students and a maximum of 14 for the class.  Teens and adults only please. 
Sign up for the class today at www.riotactinc.org.  Hope to see you there.
Riot Act Alexander Registration Form