Scroll Down to See More Class Offerings
______________________________________________________________________________________________________________________________________
RIOT ACT, Inc.'s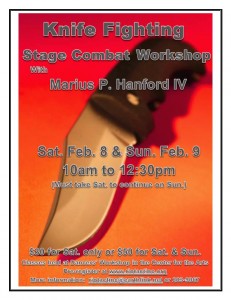 Knife Fighting Stage Combat
Taught by Marius P Hanford IV
Riot Act Inc. is thrilled to announce Knife Fighting Stage Combat Class.  Taught by professional fight director Marius P Hanford IV, the class will include knife stage combat training. Tuition is $30 for only Sat. or $50 for Sat. and Sun. per person.  Classes will be Sat. Feb. 8 and Sun. Feb. 9 from 10am to 12:30pm at Dancers' Workshop Studios.  Register on Riot Act's website www.riotactinc.org or call 307-203-9067. 
Knife Fighting Stage Combat.  Stage combat is the theatrical representation of violence performed during the course of a live performance that focuses on safety and repetition.  
This class will focus on knife fighting stage combat.  Students will learn to safely stage flight with knives.  Saturday's workshop will introduce participants to basic movements, learning how to hold the weapon, and basic engagement.  Sunday's workshop will move up to a more intermediate level with partner engagement, disarming, and more.  
A workshop in knife fighting stage combat for adults has never been taught in Teton County.  The class is offered at a low price of just $30 on Sat. or $50 for both days per person.  Participation in Saturday's class is mandatory for participation in Sunday's class.  We must have a minimum of 4 students to run this workshop, so get your friends to sign up with you!  No prior experience required. (Teens and adults only please.) 
Teaching the class will be Marius Hanford, local fight director who trained and worked New York City in multiple disciplines of eastern and western forms stage combat, as well as several martial arts styles (kung fu, aikido, hapkido, karate, judo, and jui jitsu).  He has also worked as a professional actor and teacher for companies such as The New York City Opera Co., The Lady Cavaliers, and the Edinburgh Fringe Festival and locally with Riot Act, Inc., Off Square, Teton County Library, and JHHS.  
Take our class in the morning and still have time to enjoy fun winter activities in the afternoon.  Sign up for the class today at www.riotactinc.org
Knife Stage Combat Registration Form
Knife Fighting Stage Combat Class Registration Fees