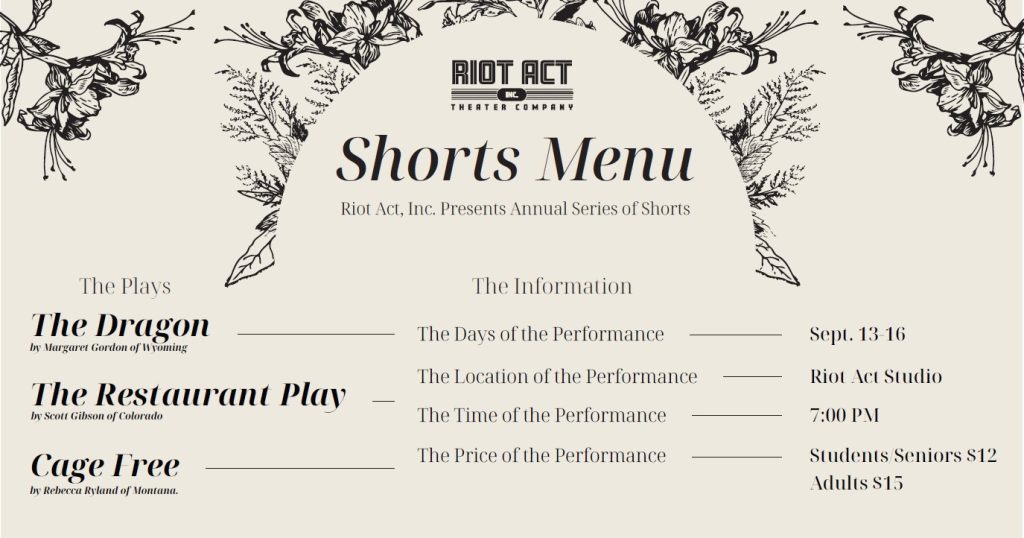 Auditions for our Annual Series of Short Plays will be held Monday August 7 and Tuesday August 8 from 7-9p at Riot Act, Inc's Studio 305 in the Center for the Arts.  
Join us for Auditions!  Everyone welcome!
Monday Aug. 7th and Tues Aug. 8th Riot Act, Inc. will be holding auditions for its Annual Series of Short Plays.
Annual Series of Shorts includes 3 plays with 5 different directors.  The performances will run in Riot Act, Inc's studio Sept. 13-16.  Actors will work with individual directors to schedule rehearsal times.  
This year, all three plays are selections from our Annual New Play Festival.  You will have the opportunity to work with the playwrights during rehearsals.  A change this year, the audience will choose the winners via vote.
Selected plays are: 
The Restaurant Play by Scott Gibson of Colorado.   Directed by Dolyn Kinney and Suzanne Spence
A simple question posed during a family's dinner out one evening leads to unexpected revelations and a couple of life-changing decisions.
4 men, 2 women
Cage Free by Rebecca Ryland of Montana.  Directed by Angel May Wise
In 2050 Earth reached its maximum sustainable population. What did the "Cage Free" people have in store for them? They find themselves questioning whether the apocalypse was outside or inside the cage.
1 man, 3 women
The Dragon by Margaret Gordon of Wyoming.  Directed by Brian Van Hatten and Evalyn Wogoman
Conquer the dragon, save the maiden, and claim the gold. Sounds pretty straightforward, right?
5 characters of any gender, 1 female voice 
All three plays are excellent examples of our talented regional writing pool and Riot Act is excited for the opportunity to bring these new creations to life on the stage.  There are great roles for both men and women, young and old, and everyone in between!  
Please bring to auditions your schedule of conflicts including work schedule through Sept. 18.  We will provide masks at the studio for those who would like them.  If you are uncomfortable auditioning in person, we will offer a virtual option.  If you are not able to make auditions but still would like to audition, please contact us to set up another time.  If you have a headshot and resume, please bring them.  If you would like to read the script before auditions, please let us know.
For more information, contact info@riotactinc.org.  
Hope to see you there!
to see you there!