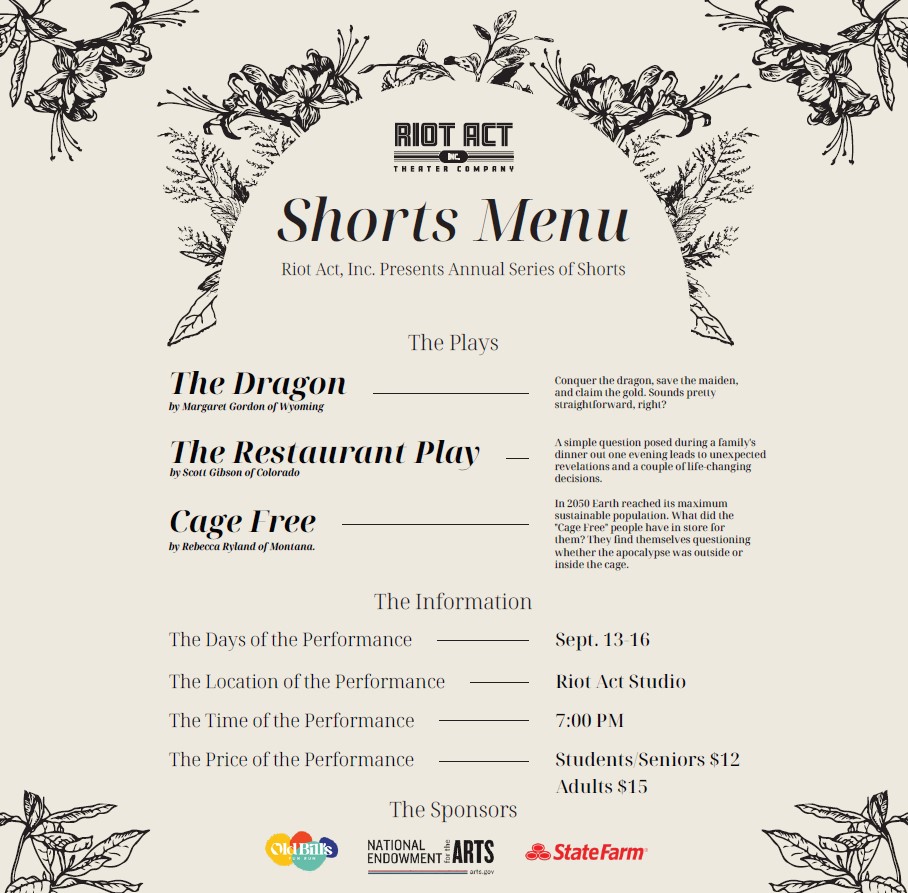 Riot Act, Inc. presents our Annual Series of Short Plays September 13-16 at 7:00pm nightly in Riot Acts Studio 305 in the Center for the Arts.
Need some small bites of comedy and drama? Always a favorite, Shorts features new regionally written plays. Join us!
Riot Act, Inc. is thrilled to present the winners of its Annual New Play Festival. Several original works were submitted for the contest and judges ultimately selected three short plays to be produced as part of Riot Act's Annual Series of Shorts. The first-place winner will receive $200 and the Marius P. Hanford IV Award. Marius was a longtime stage combat choreographer influential in several theater communities, including Jackson and New York. The second place will receive $100 and third place will be awarded $50. A change this year, the audience will choose the winners via vote.
Play Selections
This year, all three plays are selections from our Annual New Play Festival. You will have the opportunity to work with the playwrights during rehearsals.
Selected plays are:
The Restaurant Play by Scott Gibson of Colorado. Directed by Dolyn Kinney and Suzanne Spence
A simple question posed during a family's dinner out one evening leads to unexpected revelations and a couple of life-changing decisions.
Cage Free by Rebecca Ryland of Montana.  Directed by Angel May Wise
In 2050 Earth reached its maximum sustainable population. What did the "Cage Free" people have in store for them? They find themselves questioning whether the apocalypse was outside or inside the cage.
The Dragon by Margaret Gordon of Wyoming. Directed by Macey Mott
Conquer the dragon, save the maiden, and claim the gold. Sounds pretty straightforward, right?
We will have a short intermission between each Short Play.
Tickets are available in advance online or at the door.  Tickets are $15 for adults, $12 for students/seniors.  It will also be available as a Live Stream for you to watch at home for $10.  
Riot Act, Inc. T-shirts and Stickers plus Concessions will be available before each performance and during intermission.
Short plays allow the audience to taste several small bites of theatre in one evening. Mature content, parental guidance is suggested. Please join us on the stage! For more information, contact info@riotactinc.org.
Hope to see you there!
*Project made possible by Your Old Bill's donations and WY Arts Council and our sponsors: State Farm insurance, Bank of JH, and McPeak Realty.