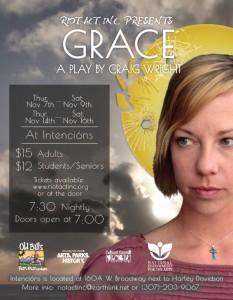 Riot Act, Inc. presents Grace by Craig Wright Thurs. Nov. 7 through Sat. Nov. 9 and Thurs. Nov. 14 through Sat. Nov. 16 at 7:30pm at Intencions (160A W. Broadway, next to the Harley Davidson Store).   
Directed by the one and only Andrew Munz, this is a performance not to miss.  The cast includes Kari Hall as Sara, Michael Moeri as Steve, Tyler Babcock as Sam, and Stephen Lottridge as Karl. 
THE STORY: GRACE is a tragicomedy that explores human assumptions about how God, goodness, faith and causality operate in the cosmic machinery. Steve and Sara have relocated to Sunrise, Florida to pursue an unbelievably wonderful business deal, but as the deal slowly unravels and Steve finds himself afflicted with an itch that just won't stop, Sara finds herself increasingly drawn to their next-door neighbor, Sam, a badly-scarred victim of a recent car accident who wants nothing to do with her or her Bible-quoting husband. In the end, with a little help from an old German exterminator who's still angry about the Allied bombing of Hamburg in World War II, all three characters are confronted by a world that's both better and worse than any religion can justify. ~Dramastist Play Service 
On the Friday night shows, a talk-back session will be offered after the performance.  The director, actors, and local experts will make up the on-stage panel.  The audience and panel are sure to have a lively conversation about faith in our modern world. 
Concessions including snacks and beverages, Riot Act, Inc. T-shirts, and Run of Show Raffle tickets will be available for purchase at the concession stand.  Raffle tickets are $5 for one or $20 for five. 
Tickets available in advance on our website at www.riotactinc.org or at the door:  $15 for adults or $12 for students/seniors.   Please arrive on time, as we will be unable to accomidate late comers.
This show is not recommended for children. 
For more information, contact riotactinc@earthlink.net or 307-203-9067 
Hope to see you there! 
*Project made possible by grants from Wyoming Arts Council/NEA, Cultural Council of JH, Old Bill's Fun Run, and Your donations and support.
Tickets:  
Grace Tickets