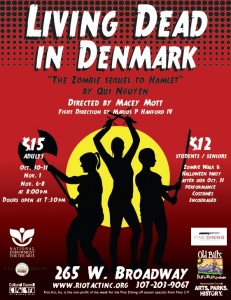 What: Living Dead in Denmark by Qui Nguyen:  The zombie sequel to Hamlet.
When: Show runs Thursday, Oct. 30-Saturday, Nov. 1 and Thursday, Nov. 6-Saturday, Nov. 8. Curtain at 8 p.m., doors at 7:30 p.m.
Where: 265 W. Broadway, Jackson, WY  83001.
What Else? Halloween night zombie walk and dance party following the Oct. 31 performance. Party tickets cost $5 with show admission or $10 for the party alone.
TICKETS – https://riotactinc.org/box-office/
Ever wonder what happened after all the bloodshed in Hamlet was over? That's the question that inspired playwright Qui Nguyen to bring some of our favorite Shakespearean characters (including Ophelia, Lady Macbeth, Juliet, Horatio, Hamlet and more) back to life to battle a zombie army in a post-apocalyptic modern day.
This raucously fun production is full of zombies, glorious flights, betrayal, and is just the thing to shake Shakespeare up. Director Macey Mott shares her slightly bloody vision with the help of fight choreographer Marius P. Hanford IV, who first brought his award winning choreography for this play to life during its premier in New York City. The cast includes Heather Best, Lindsay Burgess, Gabriel Calzadillas, Joslyn Funez, Kari Hall, Graham Koten, Frankie McCarthy, Lynne Matthews, Anjelica Singer, Zachary Singer and Deborah Supowit with fun surprise cameos throughout the show.
Tickets are available in advance online at www.riotactinc.org or at the door and cost $15 for adults or $12 for students/seniors. Seating is limited, so be sure to buy your tickets in advance.
And what could possibly make a post-apocalyptic Shakespearean zombie battle even better? The front row is considered the "splatter zone." Ponchos will be provided, but audience members who brave the first row might not want to wear anything they like too much – or at least anything they mind getting blood stains on. All audience members are encouraged to wear their Halloween best to the performances, that way everyone can be part of the fun.
Join us after the Halloween night performance for a zombie walk through downtown Jackson culminating in a Halloween dance party with DJ David Dell back at the performance space. Tickets for the Halloween party cost $5 if you see the show that night, or $10 just for the party.
Nov. 3-9, Riot Act, Inc. is Fine Dining's non-profit of the week and will benefit from restaurant sales. Please dine at one of Fine Dining's restaurants (Bin 22, The Kitchen, Rendezvous Bistro, Q Roadhouse or Osteria) before or after performances and during the week to help raise money for the company so we can keep bringing you quality – and bloody – theater.
Snacks and beverages, Riot Act, Inc. T-shirts and Run of Show Raffle tickets will be available at the concession stand during each performance. Raffle tickets cost $5 for one or $20 for five.
Keep in mind, the show contains mature content including swearing and violence, so parental guidance is suggested and audience members age 17 or younger need to be accompanied by an adult or have a signed note from a parent.
Hope to see you there!
*Project made possible by grants from Wyoming Arts Council/NEA, Cultural Council of JH, JH Farmers Market non-profit of the week contributions, and Your Old Bill's donations.