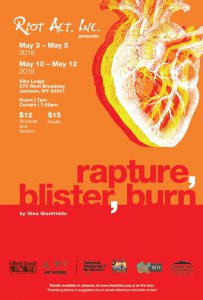 Riot Act, Inc. Presents Rapture, Blister, Burn by Gina Gionfriddo
What: Rapture, Blister, Burn by Gina Gionfriddo
When: Show runs Thurs. May 3 – Sat. May 5 and Thurs. May 10 – Sat. May 12, doors at 7 p.m., curtain at 7:30 p.m            
Where: The Elks Lodge – 270 W Broadway, Jackson, WY 83001
Tickets: $12 students/seniors or $15 adults available in advance at www.riotactinc.org or at the door
Riot Act Inc.'s final full-length production of our 15th season, Rapture Blister Burn by Gina Gionfriddo, runs May 3-5 and 10-12 at the Elks Lodge in downtown Jackson.
Rapture, Blister, Burn by Gina Gionfriddo:
After grad school, Catherine and Gwen chose polar opposite paths. Catherine built a career as a rockstar academic, while Gwen built a home with her husband and children. Decades later, unfulfilled in polar opposite ways, each woman covets the other's life, commencing a dangerous game of musical chairs—the prize being Gwen's husband. With searing insight and trademark wit, this comedy is an unflinching look at gender politics in the wake of 20th-century feminist ideals.~ DPS.
Helmed by co-directors BJ Hanford and Kathleen Godines, the show boasts a wonderful cast including, Delia Compton, Chris Eichelberger, Macey Mott, Linda Rode, and Jessica Schiers.
Tickets are available in advance online at www.riotactinc.org or at the door and cost $15 for adults or $12 for students/seniors.
Brand new, re-designed Riot Act, Inc. T-shirts, Riot Act, Inc. Stickers and Concessions will be available at the concession stand before each performance and during intermission.
**Parental guidance is suggested due to sexual references and adult content.**
For more information, contact riotactinc@earthlink.net.
Hope to see you there!
*Project made possible by grants from Wyoming Arts Council/NEA, Cultural Council of JH, Community Foundation of JH, and Your Old Bill's donations.