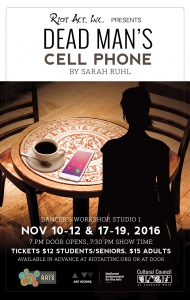 Riot Act, Inc. Presents Dead Man's Cell Phone by Sarah
What: Dead Man's Cell Phone by Sarah Ruhl
When:  Show runs Thursday, November 10 – Saturday November 12 and Thursday, November 17 – Saturday November 19, doors at 7:00 p.m., curtain at 7:30 p.m.
Where: Dancers' Workshop Studio 1
Tickets: $12 students/seniors or $15 adults    available in advance at www.riotactinc.org or at the door
 Riot Act Inc.'s first show of the season, Dead Man's Cell Phone by Sarah Ruhl, runs Nov. 10-12 and 17-19 in Dancers' Workshop Studio 1. Sarah Ruhl is the 2003 recipient of the Whiting Award for Drama.
An incessantly ringing cell phone in a quiet café.  A stranger at the next table who has had enough. And a dead man—with a lot of loose ends. So begins Dead Man's Cell Phone, a wildly imaginative new comedy by MacArthur "Genius" Grant recipient and Pulitzer Prize finalist, Sarah Ruhl, author of The Clean House and Eurydice. A work about how we memorialize the dead—and how that remembering changes us—it is the odyssey of a woman forced to confront her own assumptions about morality, redemption, and the need to connect in a technologically obsessed world. ~ Samuel French
Helmed by director Deborah Supowit, Dead Man's Cell Phone boasts a wonderful cast including Marlene Lang, Lynne Matthews, Ann Marie Wells, Garett Austin, Henry Raynor Williams, and introducing Mary O'Malley.
Tickets are available in advance online at www.riotactinc.org or at the door and cost $15 for adults or $12 for students/seniors. Seating is limited, so be sure to buy your tickets in advance.
Riot Act, Inc. T-shirts and Run of Show Raffle tickets will be available at the concession stand before each performance and during intermission. Raffle tickets cost $5 for one or $20 for five.
This show contains some strong language and sexual references.  Parental guidance is suggested.
For more information, contact riotactinc@earthlink.net.
Hope to see you there!
*Project made possible by grants from Wyoming Arts Council/NEA, Cultural Council of JH, and Your Old Bill's donations.
*By special permission from Samuel French.