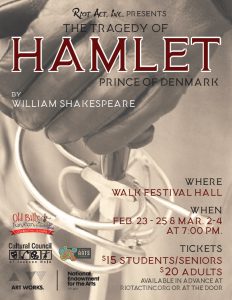 Riot Act, Inc. Presents The Tragedy of Hamlet, Prince of Denmark by William Shakespeare
What: The Tragedy of Hamlet, Price of Denmark by William Shakespeare
When: Show runs Thursday, February 23 – Saturday February 25 and
            Thursday, March 2 – Saturday March 4, doors at 6:30 p.m., curtain at 7:00 p.m.
Where: Walk Festival Hall in Teton Village
Tickets: $15 students/seniors or $20 adults,
               available in advance at www.riotactinc.org or at the door

Riot Act Inc.'s second production of our 14th season, The Tragedy of Hamlet, Prince of Denmark by William Shakespeare, runs Feb. 23-25 and March 2-4 in Walk Festival Hall.
A ghost resembling the recently deceased King of Denmark visits Hamlet, Prince of Denmark.  The ghost tells a story of betrayal and murder by Claudius the current King.  The ghost demands his death be avenged.  So the motion of Shakespeare's most famous play is put into motion.  Hamlet spends the play trying to prove the murder and avenge his father with many people of the court becoming innocent victims in his wake.
Helmed by veteran director Macey Mott, Hamlet boasts a wonderful cast including Tyler Babcock, Diana Edlinger, Chris Eichelberger, Kari Hall, Curt Haws, Craig Kirkpatrick, Stephen Lottridge, Lynne Matthews, Frankie McCarthy, Annessa Melnick, Rosalyn Moynihan, Andrew Munz, Callie Nelson, Kase Paul, Linda Rode, Jessica Schiers, Deborah Supowit, Pierce Wilfong, and Michael Yin.
Tickets are available in advance online at www.riotactinc.org or at the door and cost $20 for adults or $15 for students/seniors..
Brand new, re-designed Riot Act, Inc. T-shirts and Run of Show Raffle tickets will be available at the concession stand before each performance and during intermission. Raffle tickets cost $5 for one or $20 for five.
For more information, contact riotactinc@earthlink.net.
Hope to see you there!
*Project made possible by grants from Wyoming Arts Council/NEA, Cultural Council of JH, and Your Old Bill's donations.