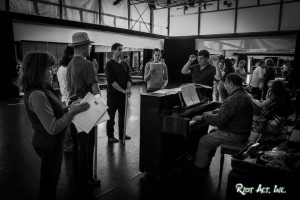 Imagine you are in a play, nearing opening night. You're excited, right? Maybe nervous? "Will I remember my lines and blocking? Will the audience laugh? Will we sell out?" Hopefully you're not thinking: "Where will we perform?" And yet this fall as Riot Act neared opening night of the first production of our 2015-2016 season, the hilariously noir Red Herring, we suddenly lost our venue and had to scramble to find a new place to perform just days before opening the show. This is the kind of thing you deal with when you don't have your own space…
Since Riot Act, Inc. was founded in 2002, the company has produced an astounding variety of plays and has featured the talents of hundreds of local actors, directors, designers and playwrights. Riot Act has done all this without a permanent home. We've performed in dance studios, art galleries, a physical therapy clinic, and just about every performance venue in Jackson Hole, indoors or out. It's been a wild ride and has sometimes included extra adventures like no heat in winter or faulty wiring or, most often, having to take down the entire set after each performance to accommodate other users of the space.
THIS is why Riot Act needs a permanent home and THIS is why Jackson Hole needs a new performance venue.
Enter Convergence. The brain child of local artists Michael Covell, Jason Fritts and Macey Mott, Convergence will fill the need for a flexible, affordable rehearsal and performance space for local performers of all types. Riot Act has the opportunity to become the Resident Theatre Company of this new space. No more cramped rehearsal spaces. No more makeshift performance venues. Just an opportunity to set down roots and continue to create great theatre with and for our community.
Can you help make this a reality? Please consider supporting our Indigogo Campaign to help create this new home for the arts in our community!
https://www.indiegogo.com/projects/convergence-rehearsal-performance-events-space/x/5887707#/