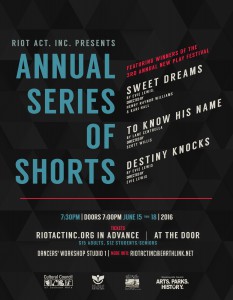 Riot Act, Inc. presents our Annual Series of Short Plays June 15-18 at 7:30pm nightly, doors at 7pm, in Dancers' Workshop Studio 1 in the Center for the Arts.

Ready for some home-grown entertainment?  Need some comedy, drama, and fantasy?  Join us for our Annual Series of Short Plays.
Riot Act, Inc. is thrilled to present the winners of its 3rd Annual New Play Festival. Six original works were submitted for the contest and judges ultimately selected three short plays to be produced as part of Riot Act's Annual Series of Shorts.
Shorts Play descriptions:
Sweet Dreams, by Evie Lewis, directed by Henry Raynor Williams & Kari Hall
A whimsical look at a modern day Mab, queen of the fairies, as her magic interferes with the coworkers of a data collection agency.
To Know His Name by Lane Centrella, directed by Scott Willis
This is a serio-comedic play focusing on a family's reflection on the loss of their patriarch.
Destiny Knocks by Evie Lewis, directed by Evie Lewis
Part love story, part game show, this play follows Miles, who must discover his destiny.
Tickets are available in advance at online at www.riotactinc.org or at the door.  Tickets are $15 for adults, $12 for students/seniors.
Short plays allow the audience to see several small bites of theatre in one evening.  Please join us on the stage!  For more information, contact riotactinc@earthlink.net.
Hope to see you there!
*Project made possible by grants from Wyoming Arts Council/NEA, Cultural Council of JH, and Your Old Bill's donations.