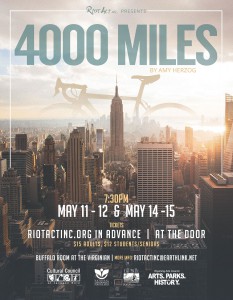 Riot Act, Inc. Presents 4000 Miles by Amy Herzog

What: 4000 Miles by Amy Herzog
When: Show runs Wednesday, May. 11, Thurs. May 12, Saturday May 14, and Sunday May 15.
 Curtain at 7:30 p.m., doors at 7:00 p.m.
Where: Buffalo Room at the Virginian Lodge
Tickets: $12 students/seniors or $15 adults, available in advance at www.riotactinc.org/box office or at the door
Riot Act Inc.'s third show of the season, 4000 Miles by Amy Herzog, runs May 11, 12, 14, & 15 at the Buffalo Room in the Virginian Lodge.  After enduring a major tragedy during his cross-country bicycle trip, Leo holes up with his grandmother, Vera, in her NYC West Village apartment.  During his month long stay, Leo and Vera learn from and help each other cope with how they each fit in today's world.
Helmed by director Deborah Supowit, 4000 Miles boasts a wonderful cast including Zachary Singer, Linda Rode, Killian White, and Jane Sturlin.
Tickets are available in advance online at www.riotactinc.org or at the door and cost $15 for adults or $12 for students/seniors. Seating is limited, so be sure to buy your tickets in advance.
Riot Act, Inc. T-shirts and Run of Show Raffle tickets will be available at the concession stand before each performance and during intermission. Raffle tickets cost $5 for one or $20 for five.
This show contains some strong language and sexual references.  Parental guidance is suggested.
For more information, contact riotactinc@earthlink.net.
Hope to see you there!
*Project made possible by grants from Wyoming Arts Council/NEA, Cultural Council of JH, and Your Old Bill's donations.
*By special permission from Samuel French.