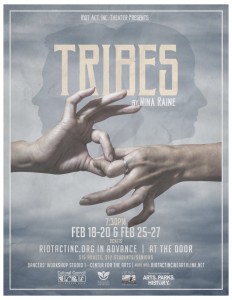 Riot Act, Inc. Presents Tribes by Nina Raine
What: Tribes by Nina Raine
When: Show runs Thursday, Feb. 18 – Saturday, Feb. 20 and Thursday, Feb. 25 – Saturday,
Feb. 27, 2016. Curtain at 7:30 p.m., doors at 7:00 p.m.
Where: Studio One at Dancers' Workshop in Center for the Arts
Tickets: $12 students/seniors or $15 adults available in advance www.riotactinc.org or at the door
Riot Act Inc.'s second show of the season, Tribes by Nina Raine, runs Feb. 18-20 and Feb. 25-27. This wonderful serio-comedic play about human communication or the lack there of… Billy was born deaf into a hearing family. He was raised inside its fiercely idiosyncratic and politically incorrect cocoon. He has adapted brilliantly to his family's unconventional ways, but they've never bothered to return the favor. It's not until he meets Sylvia, a young woman on the brink of deafness, that he finally understands what it means to be understood. ~ DPS
Helmed by veteran local director Macey Mott, Tribes boasts a wonderful cast. Familiar faces of the Jackson stage including Lacey Lukas, Frankie McCarthy, and Deborah Supowit are joined by new local residents Scott Willis and Killian White. Riot Act is pleased to introduce Guest actor Michelle Mary Schaefer to the Jackson stage. Michelle, an East Coast resident, is not only a wonderful artist, but happens to be Deaf, bringing depth and insight to the role of Billy.
Tickets are available in advance online at www.riotactinc.org/box office or at the door and cost $15 for adults or $12 for students/seniors. Seating is limited, so be sure to buy your tickets in advance.
Nightly Talk-back sessions directly after each performance will give our community an opportunity to open a discussion about communication, deafness, and all the topics of the play. Experts are invited to join our panel of performers in a conversation with the audience and the cast and crew.
Riot Act, Inc. T-shirts and Run of Show Raffle tickets will be available at the concession stand before each performance and during intermission. Raffle tickets cost $5 for one or $20 for five.
This show contains some strong language and sexual references. Parental guidance is suggested.
We will provide captioning for Deaf audience members. If you need this service, please advise us which night you will attend so we can make sure to have the captioning ready for you.
For more information, contact riotactinc@earthlink.net or 307-203-9067.
Hope to see you there!
*Project made possible by grants from Wyoming Arts Council/NEA, Cultural Council of JH, and Your Old Bill's donations.
*By special permission from Dramatists Play Service.