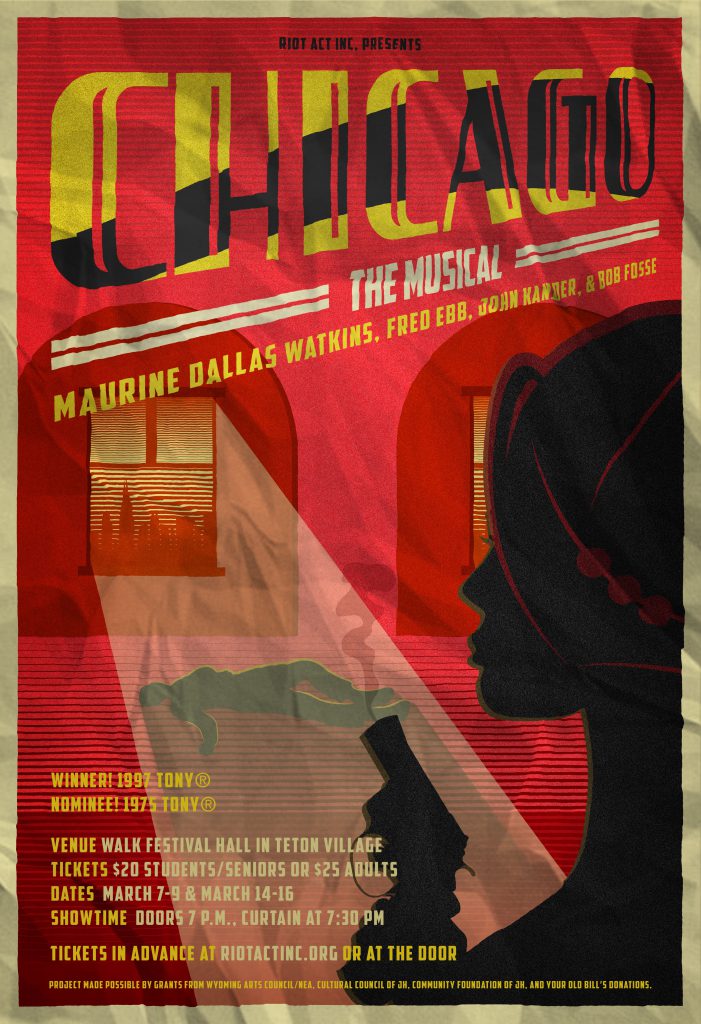 Riot Act, Inc. Presents Chicago by Maurine Dallas Watkins, Fred Ebb, John Kander, and Bob Fosse
What: Chicago by Maurine Dallas Watkins, Fred Ebb, John Kander, and Bob Fosse
When: Show runs March 7-9 & March 14-16 doors at 7 p.m., curtain at 7:30 pm
Where: Walk Festival Hall in Teton Village
Tickets: $20 students/seniors or $25 adults available in advance at www.riotactinc.org or at the door
Riot Act Inc.'s second production of our 16th season lands with a bang with our first musical in six years. Chicago by Maurine Dallas Watkins, Fred Ebb, John Kander, and Bob Fosse, running March 7-9 & 14-16 at the Walk Festival Hall in Teton Village.
NOMINEE! 1975 Tony® Awards: Best Musical, Best Book of a Musical, Best Original Score
WINNER! 1997 Tony® Award, Best Revival of a Musical
In roaring twenties Chicago, chorine Roxie Hart murders a faithless lover and convinces her hapless husband, Amos, to take the rap…until he finds out he's been duped and turns on Roxie. Convicted and sent to death row, Roxie and another "Merry Murderess", Velma Kelly, vie for the spotlight and the headlines, ultimately joining forces in search of the "American Dream": fame, fortune, and acquittal. ~ Samuel French
Helmed by director Macey Mott, stage manager Jessica Schiers, choreographers Allison Lenz and Margaret Breffeilh, musical director Laura Huckin, and fight director Matt Franta. The show boasts a wonderful cast including Angel May Wise, Anna Senecal, Chad Horton, Charley Daveler, Cory Kulacz, Henry Raynor Williams, Inger Hanson, John Tanis, Karissa Dabel, Kelsey Johnson, Kristin Livingstone, Kristina Peterson, Lynnette Parry, Mila Berry, Patrick Nolan, Patty Krause, Sharifa Suniga, and Tenessa Singleton.
Tickets are available in advance online at www.riotactinc.orgor at the door and cost $25 for adults or $20 for students/seniors.
Riot Act, Inc. T-shirts, Riot Act, Inc. Stickers and Concessions will be available at the concession stand before each performance and during intermission. The Jackson Hole Book Trader will be selling books related to the topics of Chicago and from our Beyond the Curtain event.
Join us for additional events leading up to the performances:
Jan. 30 – "Beyond the Curtain" at Jackson Hole Book Trader, 7pm start
Feb. 16 – 49er Ball at the Virginian
Feb. 26 – Pizza for a Purpose at Hand Fire Pizza
**Parental guidance is suggested due to sexual references, swearing, and adult content.**
For more information, contact riotactinc@earthlink.net.
Hope to see you there!
*Project made possible by grants from Wyoming Arts Council/NEA, Cultural Council of JH, Community Foundation of JH, and Your Old Bill's donations.
~By Special permission of Samuel French~