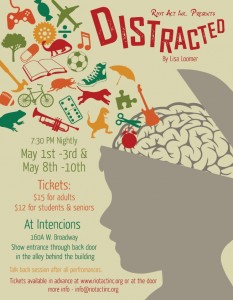 Riot Act, Inc. presents Distracted by Lisa Loomer Thurs. May 1 through Sat. May 3 and Thurs. May 8 through Sat. May 10 at 7:30pm at Intencions (160A W. Broadway).  Entrance to show is through the back door in the alley behind the building.  Talk back sessions with field experts and the cast and crew of the show after the performances.
Hold onto your hats and buckle in for this high speed hilarious roller-coaster of a performance.  Mama takes on a fast paced journey through a modern mom's attempt to help her child.  Be prepared to question your own dependence on technology and take a hard look at your own life and relationships.
THE STORY: What's wrong with nine-year-old Jesse? He can't sit still, he curses, he raps, and you can't get him into—or out of—pajamas. His teacher thinks its Attention Deficit Disorder. Dad says, "He's just a boy!" And Mama's on a quest for answers. Is Jesse dysfunctional, or just different? Don't we all have ADD, to some degree? She consults a psychologist, a homeopath, a neuropsychologist, and an environmental physician. She talks to neighbors, whose kids have their own diagnoses. A psychiatrist prescribes Ritalin for Jesse, but surely a pill can't solve all of his problems. Throughout, Jesse is an offstage voice, becoming louder and angrier, but he is in danger of fading away. And his parents' marriage is in peril. Everyone is distracted, even the actors—they're breaking character! A hilarious, provocative, and poignant look at a modern family and an epidemic dilemma: Are we so tuned into our 24/7 info-rich world that we've tuned out what really matters? ~ Dramatist Play Service
Directed by Macey Mott, this is funny and poignant performance is not to miss.  The cast includes Heather Goetz, Aly Harmon, Leah Holmes, Leigh Hunter, Gabriel Lewis, Lynne Matthews, Frankie McCarthy, Annessa Melnick, and Deborah Supowit.  The play incorporates heavy audio-visual elements.  Riot Act, Inc. proudly worked with Carl Shuptrine and his JHHS audio-visual students to create virtual elements of our show.
Talk-back sessions will be offered after the performances.  The director, actors, and local experts will make up the on-stage panel.  The audience and panel are sure to have a lively conversation about mental health, technology, and information in our modern world.
Concessions including snacks and beverages, Riot Act, Inc. T-shirts, and Run of Show Raffle tickets will be available for purchase at the concession stand.  Raffle tickets are $5 for one or $20 for five.
Bin 22 is offering a free glass of wine with food purchase when you show your tickets to Distracted.  This offer expires May 11, 2014.
Tickets available in advance on our website at www.riotactinc.org or at the door:  $15 for adults or $12 for students/seniors.  The performance space is small with limited seating, so be sure to get your tickets early.
This show contains strong language and sexual references.  Parental guidance is suggested.
For more information, contact riotactinc@earthlink.net or 307-203-9067.
Hope to see you there!
*Project made possible by grants from Community Foundation of JH, Wyoming Arts Council/NEA, Cultural Council of JH, Old Bill's Fun Run, and Your donations and support.
Purchase Tickets Now: