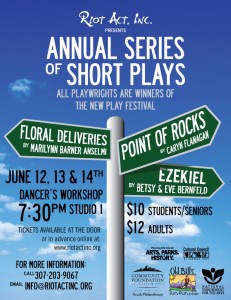 Jackson, WY – Riot Act, Inc. presents our Annual Series of Short Plays June 12-14 at 7:30pm nightly in Dancers' Workshop Studio 1 in the Center for the Arts.  
Riot Act, Inc. is thrilled to present the winners of its inaugural New Play Festival. Nine original works were submitted for the contest and judges ultimately selected three short plays to be produced as part of Riot Act's Annual Series of Shorts.
Shorts Play descriptions: 
Floral Deliveries by Marilynn Barner Anselmi, directed by Luis Guerrero.  The show is a bitter-sweet look at the end long marriage as Tw Hardy succumbs to terminal illness.
Ezekiel, by Betsy & Eve Bernfeld, directed by Henry Raynor Williams.  The play follows Zeke whose sight is set on Martian exploration.  During an unexpected landing in Las Vegas, he encounters an extraordinary vision.
Point of Rocks by Caryn Flanagan, directed by the playwright.  An unflinching peek into contemporary rural life on the High Plains of Wyoming.   Set in a doublewide trailer perched amongst crumbling layers of ancient seabed, the landscape serves as a metaphor for the human spirit hidden behind layers of doubt, neglect, and loneliness.   Occasional glimpses of kindness float through on the smallest of gestures, offering hope amidst the hardscrabble setting.  Long-absent Shelly returns to the home of her stepbrother to pay her respects to his recently deceased father.  Their troubled past (and uncertain future) is stirred up as Shelly's unconventional lifestyle follows her to her childhood doorstep.  Mature content, not recommended for young audiences.
Tickets are available in advance at online at www.riotactinc.org or at the door.  Tickets are $12 for adults, $10 for students/seniors.
Concessions including snacks and beverages, Riot Act, Inc. T-shirts, and Run of Show Raffle tickets will be available for purchase at the concession stand.  Raffle tickets are $5 for one or $20 for five.
Short plays allow the audience to see several small bites of theatre in one evening.  Mature content, parental guidance is suggested.  Please join us on the stage!  For more information, contact info@riotactinc.org or 307-203-9067.
Hope to see you there!
*Project made possible by grants from Wyoming Arts Council/NEA, Cultural Council of JH, Youth Philanthropy Grant through Community Foundation JH, and Your Old Bill's donations.
Visit our virtual box office to pre-purchase tickets:  https://riotactinc.org/box-office/