Riot Act, Inc. Presents Fat Pig by Neil LaBute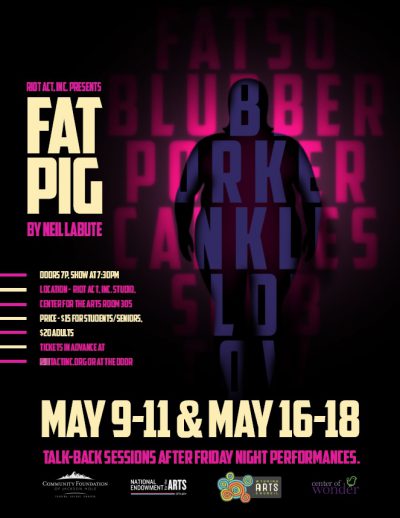 What: Fat Pig by Neil LaBute
When: Show runs May 9-11 & May 16-18 doors at 7 p.m., curtain at 7:30 pm
Where: Riot Act, Inc.'s Studio, room 305 at Center for the Arts
Tickets: $15 students/seniors or $20 adults available in advance at www.riotactinc.org or at the door
Riot Act Inc.'s third full-length production of our 16th season is Fat Pig by Neil LaBute, running May 9-11 & 16-18 at Riot Act, Inc.'s Studio, room 305 at Center for the Arts. This serio-comedic play pushes buttons at the center of our own insecurities. Join us after the Friday night performances for talk-back sessions with the cast, crew, and experts on the themes of the play including body image.
Play description:
Cow. Slob. Pig. How many insults can you hear before you have to stand up and defend the woman you love? Tom faces just that question when he falls for Helen, a bright, funny, sexy young woman who happens to be plus sized-and then some. Forced to explain his new relationship to his shallow (although shockingly funny) friends, finally he comes to terms with his own preconceptions of the importance of conventional good looks. Neil LaBute's sharply drawn play not only critiques our slavish adherence to Hollywood ideals of beauty but boldly questions our own ability to change what we dislike about ourselves. ~Farrar, Straus, & Giroux
Helmed by director Henry Raynor Williams, stage manager Delia Compton, the show boasts a wonderful cast including Karissa Dabel, Patrick Nolan, Graham Koten, and Annessa Melnick.
Tickets are available in advance online at www.riotactinc.org or at the door and cost $20 for adults or $15 for students/seniors.  Riot Act, Inc. T-shirts, Riot Act, Inc. Stickers and Concessions will be available at the concession stand before each performance and during intermission. 
**Parental guidance is suggested due to sexual references adult content.**
For more information, contact riotactinc@earthlink.net.
Hope to see you there!
*Project made possible by grants from Wyoming Arts Council/NEA, Cultural Council of JH, Community Foundation of JH, and Your Old Bill's donations.
~By Special permission of Broadway Play Publishing~