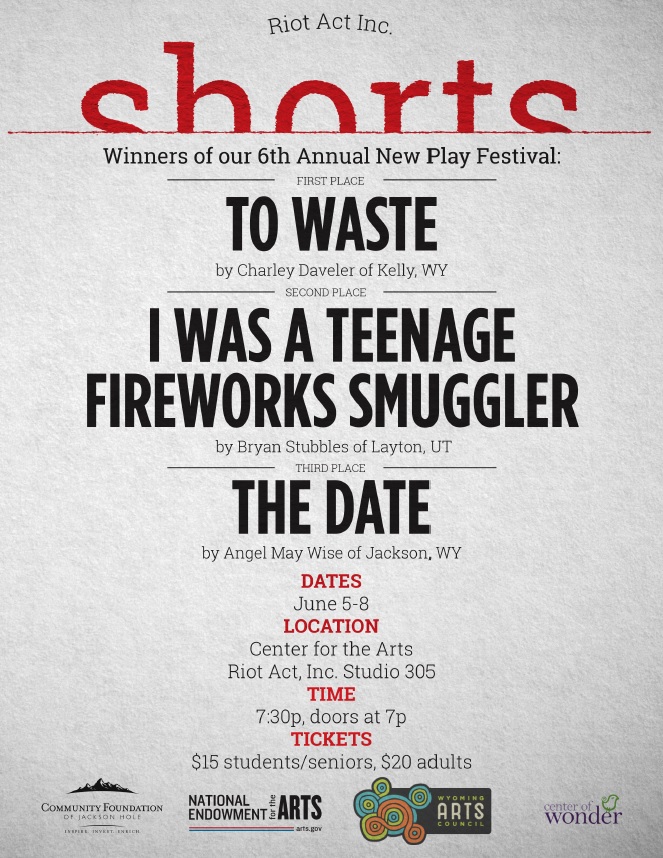 Riot Act, Inc. presents our Annual Series of Short Plays June 5-8 at 7:30pm nightly in Riot Acts Studio 305 in the Center for the Arts.
Need some small bites of comedy and drama? Always a spring favorite, Shorts features new regionally written plays. Join us.
Riot Act, Inc. is thrilled to present the winners of its 6th Annual New Play Festival. Seven original works were submitted for the contest and judges ultimately selected three short plays to be produced as part of Riot Act's Annual Series of Shorts. The first-place winner will receive $100 and the Marius P. Hanford IV Award. Marius was a longtime stage combat choreographer influential in several theater communities, including Jackson and New York. The second and third finalists will be awarded $50 each.
Shorts Play descriptions:
To Waste by Charley Daveler, directed by Macey Mott
A black comedy, a dying young woman is visited by the Reaper and taken to an alternate dimension to evaluate whether or not she is ready to die.
Staring – Charley Daveler, Angel May Wise, Stacey Nail, John Wright
I Was a Teenage Fireworks Smuggler by Bryan Stubbles, directed by Angel May Wise
A Utah teen travels to Evanston to purchase illegal fireworks to impress the boy she loves.
Staring – Emma Dillon, Lucy Dillon, Eric Woodson, Helena Quinn, Lacey Lukas
The Date by Angel May Wise, directed by Lacey Lukas and Karissa Dabel
In the era of "Me Too", this play takes a hard look at dating etiquette, expectations, and reality.
Staring – Kelsey Johnson, Chris Riley, Zack Kresge
**Warning** This play deals with sexual assault. Parental Guidance suggested.
Tickets are available in advance at online at www.riotactinc.org or at the door. Tickets are $20 for adults, $15 for students/seniors.
Riot Act, Inc. T-shirts and Stickers plus Concessions will be available before each performance and during intermission.
Short plays allow the audience to taste several small bites of theatre in one evening. Mature content, parental guidance is suggested. Please join us on the stage! For more information, contact riotactinc@earthlink.net.
Hope to see you there!
*Project made possible by grants from Wyoming Arts Council/NEA, Cultural Council of JH, JH Community Foundation, and Your Old Bill's donations.