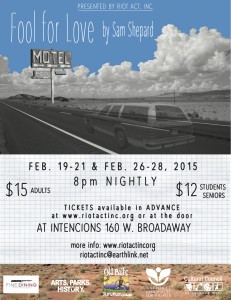 Riot Act, Inc. Presents Fool for Love by Sam Shepard

What: Fool for Love by Sam Shepard
When: Show runs Thursday, Feb. 19-Saturday, Feb. 21 and Thursday, Feb.  26-Saturday, Feb. 28. Curtain at 8 p.m., doors at 7:30 p.m.
Where: Intencions:  160 W. Broadway (next to Harley Davidson).
Tickets: $12 students/seniors or $15 adults available in advance www.riotactinc.org or at the door

Sam Shepard's Obie Award winning American Classic follows May and Eddie as they struggle against themselves and the cosmos to avoid repeating the same hurtful cycles in their lives.  The "fools" in the play are battling lovers at a Mojave Desert motel. May is hiding out at said motel when an old childhood friend and old flame, Eddie, shows up. Eddie tries to convince May to come back home with him and live in the trailer on the farm they always wanted to buy. May refuses because she has started a new life and knows that if she goes back to Eddie their relationship will repeat the same destructive cycle it has before. Throughout the play the character of the Old Man — the father of both lovers — is present and talks to each of the other two characters. It is revealed that the Old Man had led a double life, abandoning each family for different parts of each child's life. The two became lovers in their high school years and when their parents finally figured out what had occurred Eddie's mother shot herself. May is afraid that Eddie has begun to emulate his father; taking to drinking and secretly seeing a woman May refers to as the Countess. The play centers around the drama of the confrontation rather than a plot with a rising and falling action. In the end the two lovers have not reconciled, the Old Man begins to lose himself to his own delusions, and a stranger is left on stage to observe it all. ~ Wikipedia
In her first time directing a full length play, director Deborah Supowit helms a wonderful cast including Leah Holmes as May, Graham Koten as Eddie, Frankie McCarthy as Martin, and Stephen Lottridge as The Old Man.
Tickets are available in advance online at www.riotactinc.org or at the door and cost $15 for adults or $12 for students/seniors. Seating is limited, so be sure to buy your tickets in advance.
The performance will run approximately 90 min. with no intermission. Snacks and beverages, Riot Act, Inc. T-shirts and Run of Show Raffle tickets will be available at the concession stand before each performance. Raffle tickets cost $5 for one or $20 for five.
Keep in mind, the show contains mature content including adult situations, swearing, and violence, so parental guidance is suggested and audience members age 17 or younger need to be accompanied by an adult or have a signed note from a parent.
*Project made possible by grants from Wyoming Arts Council/NEA, Cultural Council of JH, JH Farmers Market non-profit of the week contributions, and Your Old Bill's donations.