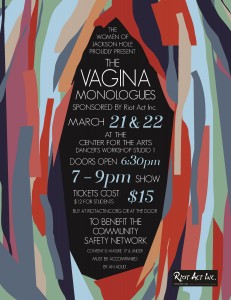 Riot Act, Inc. Sponsors
The Vagina Monologues by Eve Ensler
VDay of Jackson Hole presents The Vagina Monologues by Eve Ensler sponsored by Riot Act, Inc. Sat. March 21 through Sun. March 22 7pm at Center for the Arts, Dancers Workshop Studio 1. Entrance to show is on the second floor of the Glenwood entrance to Center for the Arts. Talk back sessions the cast and crew of the show after the performances. Audience under 17 must be accompanied by an adult. Performances will benefit the Community Safety Network of Jackson Hole.
Get ready for the ride of your life through laughter, tears, stories that you know by heart and stories that you could never imagine. The Vagina Monologues, an internationally renowned play in its 19th year of production, is coming to Jackson Hole once again to bring you stories you never thought would be told on stage.
THE STORY: In the 1990s, playwright Eve Ensler interviewed hundreds of women to know more about their relationships with their vaginas. She was in Off-Broadway and didn't know that these interviews would one day become a play that is now shown annually in 96 countries and 120 languages. The stories range from such titles as "My Angry Vagina" about the institutionalized gender biases that face women in mostly developed countries to "They Beat the Girl Out of My Boy" about the struggles that transgender women face today to "The Woman Who Loved to Make Vaginas Happy" about a dominatrix who's calling in life is to make women orgasm…and she let you know their moans to prove it.
Directed by Anne Marie Wells and Kristin Ladd, this hilarious and poignant performance is not to be missed no matter what your age, gender, or relationship with vaginas. The cast includes Lynne Matthews, Ingrid Daffner Krasnow, Kristin Ladd, Anne Marie Wells, Elizabeth Moran, Chelsea Secor, Katie Paddock, Minerva Pineda, Joslyn Funez, Anjelica Singer, Lindsay Burgess, Dail Barbour, Anpeytu Raben, Erica MacDonald, Amira Burns, Sarah Wemple, Zoe Taylor, Annika Jorgensen, Teresa de Groh, Carly Mitchell, Emma Breysse, Marlene Lang, Kelsey Hull and Christina Sloat. The play incorporates topics that are explicit. VDay of Jackson Hole is proudly working with Gregory Solsnicki and Center for the Arts for lighting and space.
Talk-back sessions will be offered after the performances. The directors and actors will be answering audience and cast-driven questions about the topics brought up in the performance. The audience and cast are sure to open once-impenetrable dialogues about gender-based violence and inequalities.
Concessions including snacks and alcoholic and non-alcoholic beverages, raffle tickets, and local artist's pieces will be available for purchase at the concession stand. Raffle tickets are $5 for one or $20 for five.
Tickets available in advance on our website at www.riotactinc.org or at the door: $15 for adults or $12 for students/seniors. The performance space is small with limited seating, so be sure to get your tickets early.
This show contains strong language and sexual references. Parental guidance is suggested.
For more information, contact kyoladd@gmail.com or (661) 618-0861.
Hope to see you there!
*Project made possible by Center for the Arts, Dancers Workshops, Community Safety Network, Riot Act, Inc., and the International VDay Campaign.