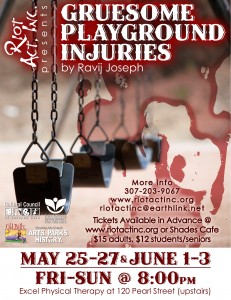 RIOT ACT, INC. presents Gruesome Playground Injuries by Rajiv Joseph
Jackson, WY – Riot Act, Inc. presents Gruesome Playground Injuries by Rajiv Joseph, directed by Cynthia Huyffer, Fri. May 25 – Sun. May 27, and Fri. June 1 – Sun. June 3 at 8pm with doors opening at 7:30pm nightly at Excel Physical Therapy (120 Pearl St. Upstairs).   
THE STORY: Over the course of 30 years, the lives of Kayleen and Doug intersect at the most bizarre intervals, leading the two childhood friends to compare scars and the physical calamities that keep drawing them together.  ~Dramatists Play Service
Joshua Griffith as Doug and Macey Mott as Kayleen take you on a roller-coaster ride of childhood antics, emotional baggage, and physical injuries as they reveal the heartbreaking relationship of Doug and Kayleen.  Helmed by director Cynthia Huyffer and assistant director Henry Raynor Williams, this proves a poignant and darkly comical look at modern relationships.  Marius P. Hanford IV creates special effects with assistants Mike Colin and Christina Croxell. 
Concessions and our run of show raffle will be offered at each performance.  Raffle tickets will be $5 each or $20 for 5 and may be put in prize jar of your choice.  Concessions will include non-alcoholic hot and cold beverages and snacks.  Brand new Riot Act, Inc. T-shirts will also be available for purchase for $15 each in both men's and women's sizes.
Tickets are available in advance at Shades Cafe, online at www.riotactinc.org, or at the door.  Tickets are $15 for adults, $12 for students/seniors.
Hope to see you there! 
*Project made possible by grants from Wyoming Arts Council, NEA, Cultural Council of JH, and Your Old Bill's donations.