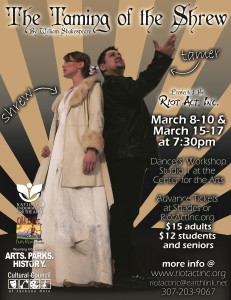 Riot Act, Inc. presents The Taming of The Shrew by William Shakespeare, directed by Macey Mott, Thurs. March 8 – Sat. March 10, and Thurs. March 15 – Sat. March 17 at 7:30pm with doors opening at 7pm nightly at the Dancers' Workshop Studio 1 in the Center for the Arts.
One of Shakespeare's funniest comedies, The Taming of The Shrew tells the story of love lost and won. Set modern day with Shakespeare's words as a reality TV show, the audience shall have a fun romp through Padua with concealed identities, physical battles, wedding dresses flying and much, much more. Join us in laughing 'til you cry with this innovative, modern production.
A top-notch cast includes Annessa Melnick, Marius Hanford IV, Deborah Supowit, Ben Medina, Melchor Moore, Cynthia Huyffer, Bernadette Cuvalo, John Sidle, Chris Mears, Gregg Wogan, Ed Cheramy, Heather Jean Best, Stephen Lottridge, Xavier Dyess, and Diane Flemming.  Wonderful videographer, Jennifer Tennican helms all our video elements and leads our great camerapeople.  A fabulous crew headed by stage manager Keri Dyess.  Doug Vogel's expertise lends itself to our lighting design.
Concessions and our run of show raffle will be offered at each performance. Raffle tickets will be $5 each or $20 for 5 and may be put in prize jar of your choice. Concessions will include non-alcoholic hot and cold beverages and snacks. Brand new Riot Act, Inc. T-shirts will also be available for purchase for $15 each in both men's and women's sizes.
Tickets are available in advance at Shades Cafe, online at www.riotactinc.org, or at the door. Tickets are $15 for adults, $12 for students/seniors.
Hope to see you there!
*Project made possible by grants from Wyoming Arts Council, NEA, Cultural Council of JH, and Your Old Bill's donations.
**Extra special thanks to: Teton Motors, Alltrans, The Presbyterian Church, Stephanie & Jarad Spackman