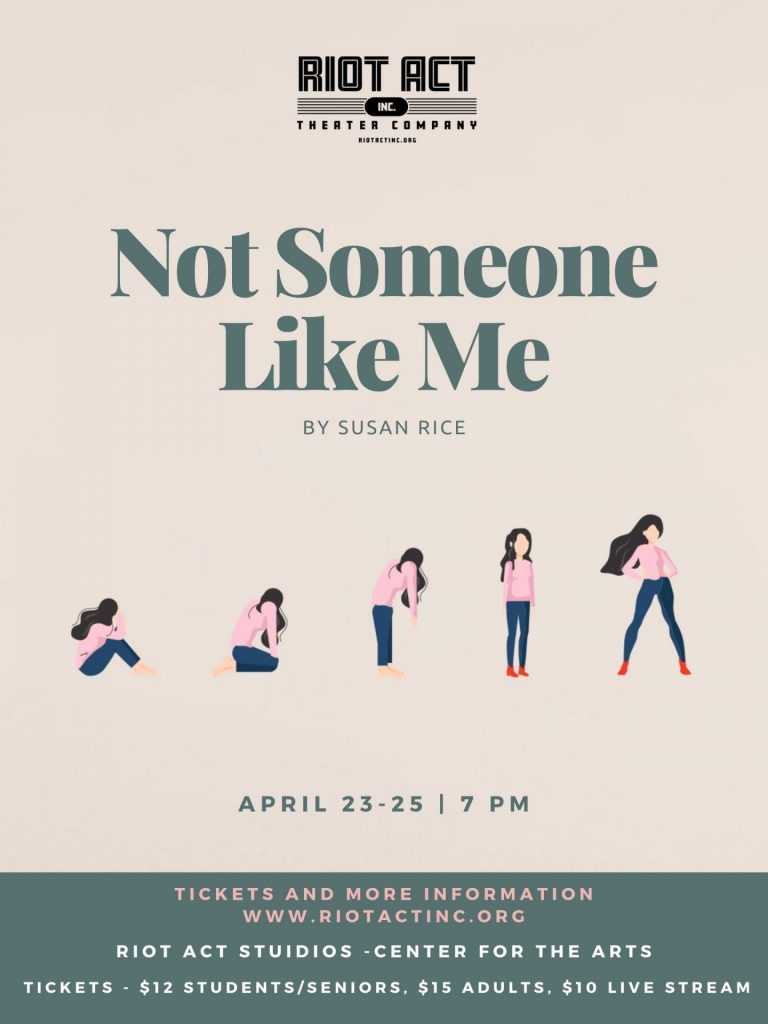 Riot Act, Inc. presents Not Someone Like Me by Susan Rice Friday April 23 – Sunday April 25 at 7pm Riot Act, Inc's Studio in the Center for the Arts.
Not Someone like me is a play about sexual assault based on five true stories. On television and in film, the experience of rape is often sensationalized, exploited, and distant. Hearing these stories told by living, breathing women, in real time, has a vastly different effect. With each woman's story, the play explores a common theme: speaking out turns victims into survivors, if not heroes. NOT SOMEONE LIKE ME aims to inspire audiences to tell their own stories—and put an end to the silence and the shame. ~Dramatist Play Service
Helmed by director Deborah Supowit and assistant director Lacey Lukas, the show boasts a wonderful cast including Linda Rode, Joanne Rowland, Karissa Dabel, Cynthia Huyffer, and Johanna Nchekwube.
Join us after each performance for a talk-back session including experts on the topic from Community Safety Network.
Special considerations for the pandemic:
A very small live audience (20 people or less) will be admitted into the theater. Audience members are asked to wear a mask, socially distance, and use hand sanitizer. Masks and sanitizer will be provided if you do not bring your own. Seating will be arranged to promote social distancing.
Actors will be mask-less for their performances. All crew members will wear masks and keep hands clean.
Tickets are available in advance at online or at the door. Tickets are $15 for adults, $12 for students/seniors. It will also be available as a Live Stream for you to watch at home for $10. Click here to get your tickets.
Riot Act, Inc. T-shirts and Stickers plus Concessions will be available before each performance and during intermission.
**This production does include graphic descriptions of sexual violence. Parental Guidance suggested.**
Please join us on the stage! For more information, contact info@riotactinc.org. Hope to see you there!
*Project made possible by grants from Wyoming Arts Council/NEA, Cultural Council of JH, JH Community Foundation, Art is Vital, The Puffin Foundation, and Your Old Bill's donations.
Presented by special permission of Dramatist Play Service.