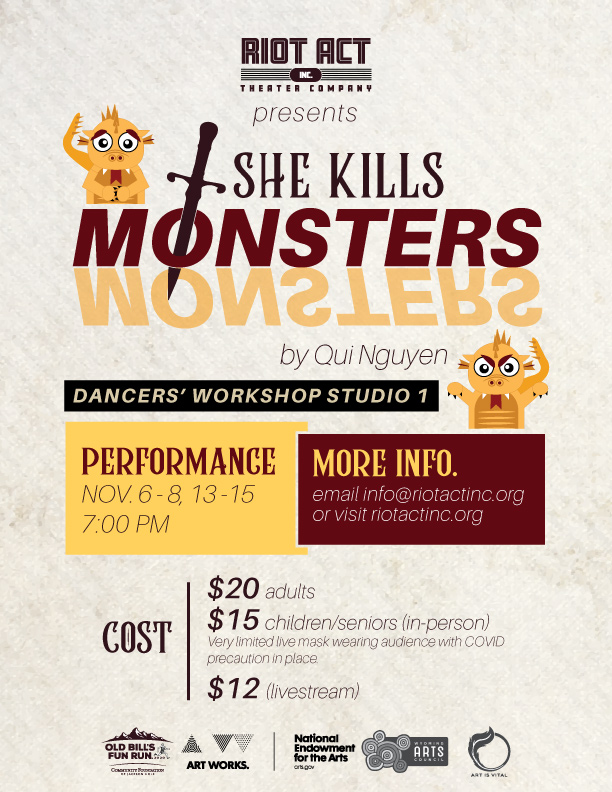 Riot Act, Inc. presents She Kills Monsters by Qui Nguyen Friday Nov. 6 – Sunday Nov. 8 and Friday Nov. 13 – Sunday Nov. 15 at 7pm Dancers' Workshop Studio 1 in the Center for the Arts.
The first full length production of our 18th season will be She Kills Monsters by Qui Nguyen.
She Kills Monsters tells the story of Agnes Evans, a young woman grieving for her deceased sister. The Evans sisters never were especially close, but after Tilly's death Agnes resolves a notebook containing a game scenario created by her sister. She discovers that Tilly was well-known Dungeons and Dragons player, and that she was passionate about online fantasy gaming. In order to unlock more secrets about her mysterious young sibling, Agnes recruits a "dungeon master" named Chuck to help her understand and grieve Tilly. Chock-full of supermodel elves, dominatrix warrior women, and nasty ogres, She Kills Monsters is a surprisingly sweet tale of friendship, loss, and acceptance. ~Samuel French
Helmed by veteran director Macey Mott and intimacy/fight director Samantha Kaufman, the show boasts a wonderful cast including Angel May Wise, Tatum Graham, Josh Roche, Charley Daveler, Emma Dillon, Karissa Dabel, Cody Boyce AKA Aurora Queen of the Night, Lucy Dillon, Dillon Hanna, and Skye Dillon.  Monsters and other puppets made and created by Charley Daveler. Dance choreography by Ashley Mott.
Special considerations for the pandemic:
A very small live audience (20 people or less) will be admitted into the theater. Audience members are asked to wear a mask, socially distance, and use hand sanitizer. Masks and sanitizer will be provided if you do not bring your own. Seating will be arranged to promote social distancing.
Actors will be mask-less for their performances. All crew members will wear masks and keep hands clean.
Tickets are available in advance at online at www.riotactinc.org or at the door. Tickets are $20 for adults, $15 for students/seniors. It will also be available as a Live Stream for you to watch at home for $12.
Riot Act, Inc. T-shirts and Stickers plus Concessions will be available before each performance and during intermission.
**This production does involve staged violence. Parental Guidance suggested.**
Please join us on the stage! For more information, contact info@riotactinc.org. Hope to see you there!
*Project made possible by grants from Wyoming Arts Council/NEA, Cultural Council of JH, JH Community Foundation, Art is Vital, and Your Old Bill's donations.