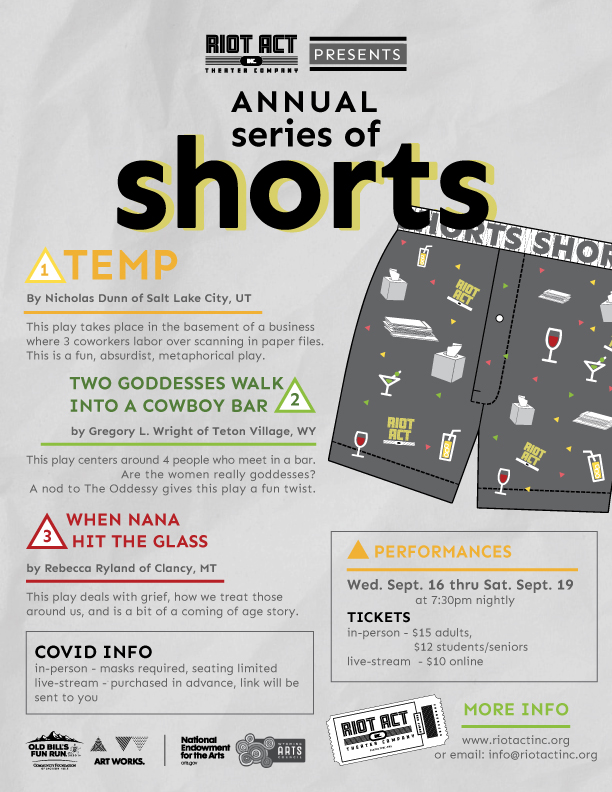 Riot Act, Inc. presents our Annual Series of Short Plays September 16-19 at 7:30pm nightly in Riot Acts Studio 305 in the Center for the Arts.
Need some small bites of comedy and drama? Always a favorite, Shorts features new regionally written plays. Join us!
Riot Act, Inc. is thrilled to present the winners of its Annual New Play Festival. Eight original works were submitted for the contest and judges ultimately selected three short plays to be produced as part of Riot Act's Annual Series of Shorts. The first-place winner will receive $200 and the Marius P. Hanford IV Award. Marius was a longtime stage combat choreographer influential in several theater communities, including Jackson and New York. The second place will receive $100 and third place will be awarded $50.
Winning plays
#1 – Temp by Nicholas Dunn of Salt Lake City, UT. Directed Michael Jerome Johnson.
This play takes place in the basement of a business where three coworkers labor over scanning in paper files. This is a fun, absurdist, metaphorical play.
#2 – Two Goddesses Walk into a Cowboy Barby Gregory L. Wright of Teton Village, WY. Directed by Samantha Kaufman with assistance from Michael Jerome Johnson and Macey Mott.
This play centers around four people who meet in a bar. Are the women really goddesses? A nod to The Oddessy gives this play a fun twist.
#3 – When Nana Hit the Glass by Rebecca Ryland of Clancy, MT. Directed by Charley Daveler.
This play deals with grief, how we treat those around us, and is a bit of a coming of age story.
We will have a short intermission between each Short Play.
Special considerations for the pandemic
A very small live audience (20 people or less) will be admitted into the theater. Audience members are asked to wear a mask, socially distance, and use hand sanitizer. Masks and sanitizer will be provided if you do not bring your own. Seating will be arranged to promote social distancing. The studio will be disinfected between performances.
Actors will be mask-less for their performances. Only the actors involved in a particular play will be allowed in the studio during the performance of their play. All crew members will wear masks and keep hands clean.
Tickets are available in advance at online at or at the door. Tickets are $15 for adults, $12 for students/seniors. It will also be available as a Live Stream for you to watch at home for $10.
Riot Act, Inc. T-shirts and Stickers plus Concessions will be available before each performance and during intermission.
Short plays allow the audience to taste several small bites of theatre in one evening. Mature content, parental guidance is suggested. Please join us on the stage! For more information, contact.
Hope to see you there!
*Project made possible by grants from Wyoming Arts Council/NEA, Cultural Council of JH, JH Community Foundation, and Your Old Bill's donations.
CLICK HERE to get your tickets!