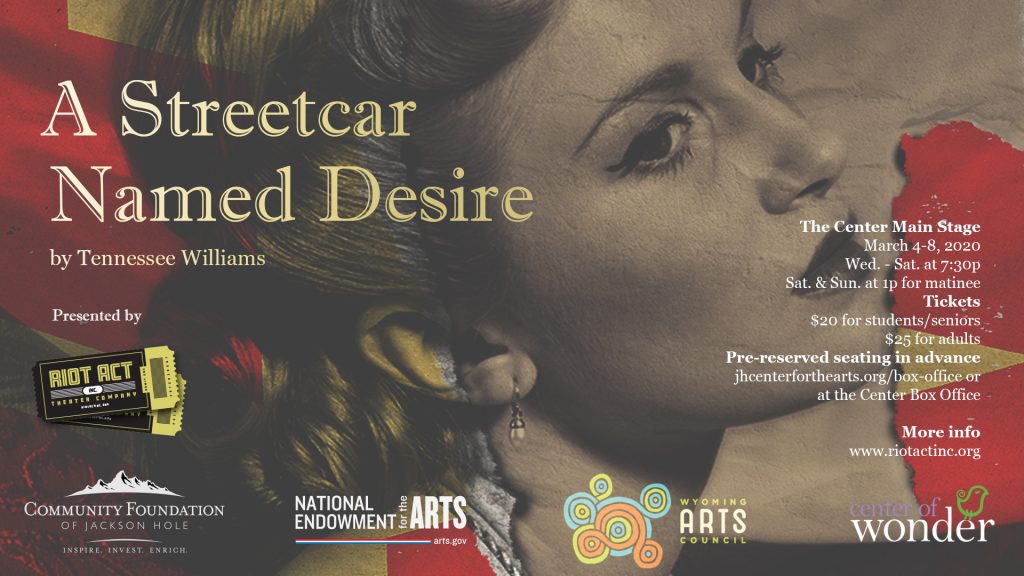 What: A Streetcar Named Desire by Tennessee Williams
When: March 4-7 at 7:30pm, matinees March 7 & 8 at 1:00pm
Where: The Center for the Arts Main Stage Theatre
Contact: Macey Mott
Phone: 307-203-9067
Email: riotactinc@earthlink.net
For Immediate Release
Riot Act, Inc. presents A Streetcar Named Desireby Tennessee Williams on The Center Main Stage. The show will run March 4-7 at 7:30pm, matinees March 7 & 8 at 1:00pm. Tickets may be purchased at The Center Box Office: $25 for adults or $20 for students/seniors.
Riot Act, Inc. is excited to present our first production on The Center Main Stage, the American classic play, A Streetcar Named Desire by Tennessee Williams. The production will run March 4-8, 2020 including weekend matinees.
Play description:
The play reveals to the very depths the character of Blanche DuBois, a woman whose life has been undermined by her romantic illusions, which lead her to reject – so far as possible – the realities of life with which she is faced and which she consistently ignores. The pressure brought to bear upon her by her sister, with whom she goes to live in New Orleans, intensified by the earthy and extremely "normal" young husband of the latter, leads to a revelation of her tragic self-delusion and, in the end, to madness. ~ Dramatist Play Service
Helmed by veteran director Macey Mott and intimacy director Samantha Kaufman, the show boasts a wonderful cast including Angel May Wise, Cynthia Huyffer, Fernando "Nando" Garcia, Josh Roche, Lacey Lukas, Peter Hiebert, Samantha Wittig, Stephanie Kelly, and William Dunn.
Tickets are available in advance online at The Center Box Office and cost $25 for adults or $20 for students/seniors.  Riot Act, Inc. T-shirts, Riot Act, Inc. Stickers and Concessions will be available before each performance and during intermission.
**This production does involve staged violence. Parental Guidance suggested.**
For more information, contact info@riotactinc.org Hope to see you there!
*Project made possible by grants from Wyoming Arts Council/NEA, Cultural Council of JH, Community Foundation of JH, and Your Old Bill's donations.*
~By Special permission of Dramatist Play Service~