Riot Act, Inc. Presents The Penelopiad by Margaret Atwood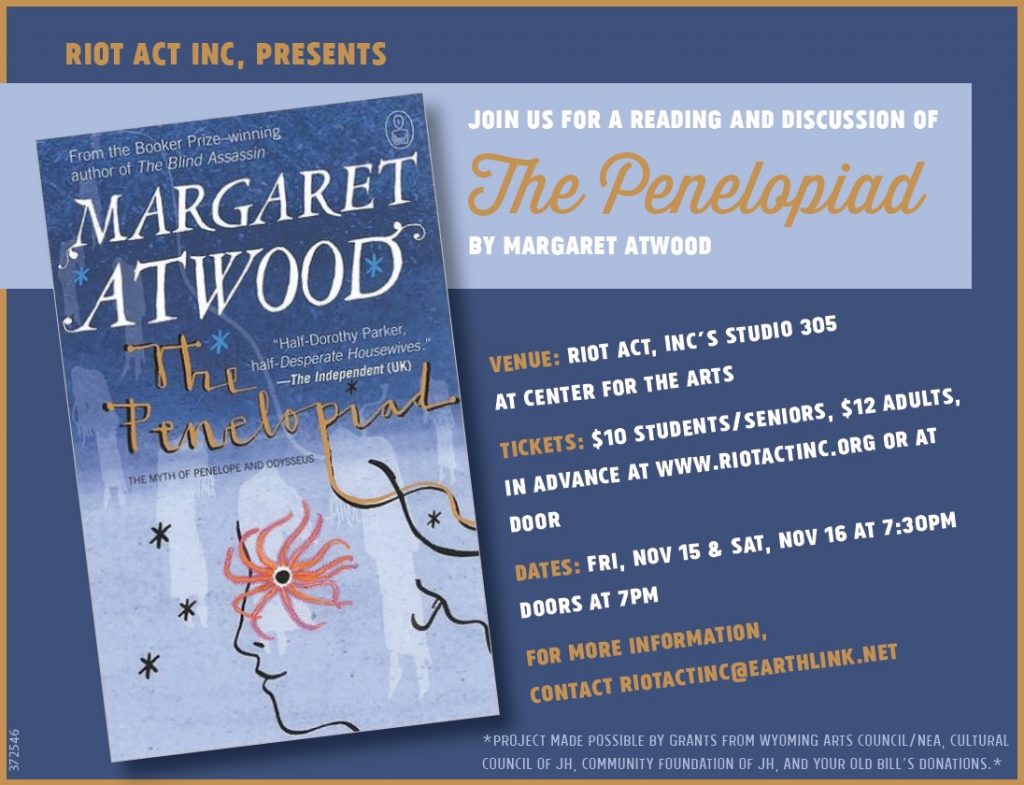 What: The Penelopiad by Margaret Atwood
When: Fri. Nov. 15 and Sat. Nov. 16 at 7:30pm, doors at 7pm.
Where: Riot Act, Inc.'s Studio 305 at Center for the Arts
Tickets: $10 students/seniors, $12 adults, in advance at www.riotactinc.org or at the door
Join us for a reading and discussion of The Penelopiad by Margaret Atwood. There are two opportunities to join us on Friday November 15 or Saturday Nov. 16. An energetic reading by actors with a lively discussion after the play, this is sure to be a entertaining and educational way to spend a fall evening. Tickets are a low $10 for students/seniors and $12 for adults.
Helmed by director Deborah Supowit, the cast includes Zachary Singer, Lacey Lukas, Margaret Gordon, Celia Ward, Macey Mott, Den Binderup, and Deborah herself.
Play description:
As portrayed in Homer's Odyssey, Penelope – wife of Odysseus and cousin of the beautiful Helen of Troy – has become a symbol of wifely duty and devotion, enduring twenty years of waiting when her husband goes to fight in the Trojan War. As she fends off the attentions of a hundred greedy suitors, travelling minstrels regale her with news of Odysseus' epic adventures around the Mediterranean – slaying monsters and grappling with amorous goddesses. When Odysseus finally comes home, he kills her suitors and then, in an act that served as little more than a footnote in Homer's original story, inexplicably hangs Penelope's twelve maids. Now, Penelope and her chorus of wronged maids tell their side of the story in a new stage version by Margaret Atwood, adapted from her own wry, witty and wise novel. ~ Faber Drama
For more information, contact riotactinc@earthlink.net. Hope to see you there!
*Project made possible by grants from Wyoming Arts Council/NEA, Cultural Council of JH, Community Foundation of JH, and Your Old Bill's donations.*