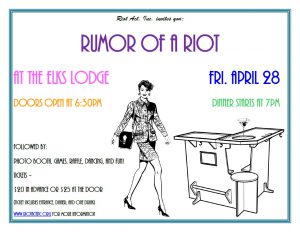 RIOT ACT, INC. presents Rumor of a Riot ~ A fundraiser event
Jackson, WY – Riot Act will be hosting Rumor of a Riot, a 1980s dinner party, game night, and dance party, Friday, April 28, 2017 at The Elks Lodge.  Doors open at 6:30pm and dinner starts at 7pm.
Dress in your favorite 1980s upper class duds.  Enjoy dinner with make-your-own pizzas and a special dessert.  After dinner, join the game stations or jump in the photo booth.  Win entries to our raffle at each station.  Raffle prizes include a gift certificate to Fine Dining, original artwork, massage certificates, and much more.  Watch a short preview featuring the cast of our upcoming production: Rumors by Neil Simon. Everything will culminate in a DJed 80s dance party.
Doors open at 6:30pm.  Dinner starts at 7pm.  Games, Raffle, and Dancing to follow.
Tickets are available in advance at www.riotactinc.org for $20 or at the door $25.  Ticket price includes dinner and one drink.  Game and photo booth tickets will be available for purchase during the event.
Proceeds from this fundraiser event will help us to match a matching grant from the Community Foundation of JH and produce both Rumors and our Annual Series of Shorts.
Hope to see you there!
**Special Thanks to The Elks Lodge, Pinky Gs, Fine Dining, Laura Garrard, Dawn Webster, Henry Williams, Homewood suites **