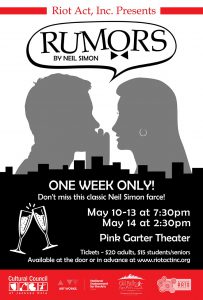 Riot Act, Inc. Presents Rumors by Neil Simon
What: Rumors by Neil Simon
When: Show runs Wednesday May 10 – Saturday May 13, doors at 7 p.m., curtain at 7:30 p.m
            and Sunday May 14 at matinee, doors at 2 p.m., curtain at 2:30 p.m
Where: Pink Garter Theater
Tickets: $15 students/seniors or $20 adults available in advance at www.riotactinc.org or at the door
Riot Act Inc.'s third production of our 14th season, Rumors by Neil Simon, runs May 10-14 at Pink Garter Theater.  One Week Only!
At a large, tastefully appointed Sneden's Landing townhouse, the Deputy Mayor of New York has just shot himself. Though only a flesh wound, four couples are about to experience a severe attack of Farce. Gathering for their tenth wedding anniversary, the host lies bleeding in the other room and his wife is nowhere in sight. His lawyer, Ken and wife Chris must get "the story" straight before the other guests arrive. As the confusions and mis-communications mount, the evening spins off into classic farcical hilarity. ~ Samuel French
Helmed by director Cynthia Huyffer and assistant director Deborah Supowit, Rumors boasts a wonderful cast including Lindsay Burgess, Margaret Gordon, Leif Huot, Graham Koten, Patrick Nolan, Cody Jo Salaz, Heather Smith, Ann Marie Wells, Pierce Wilfong, and Michael Yin.
Tickets are available in advance online at www.riotactinc.org or at the door and cost $20 for adults or $15 for students/seniors..
Brand new, re-designed Riot Act, Inc. T-shirts and Run of Show Raffle tickets will be available at the concession stand before each performance and during intermission. Raffle tickets cost $5 for one or $20 for five.
For more information, contact riotactinc@earthlink.net.
Hope to see you there!
*Project made possible by grants from Wyoming Arts Council/NEA, Cultural Council of JH, Community Foundation of JH, and Your Old Bill's donations.