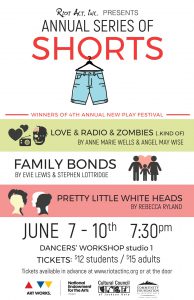 Riot Act, Inc. presents our Annual Series of Short Plays June 7-10 at 7:30pm nightly in Dancers' Workshop Studio 1 in the Center for the Arts.

Need some small bites of comedy and drama?  Always a spring favorite, Shorts features new regionally written plays.  Join us.
Riot Act, Inc. is thrilled to present the winners of its 4th Annual New Play Festival. Seven original works were submitted for the contest and judges ultimately selected three short plays to be produced as part of Riot Act's Annual Series of Shorts.  The first-place winner will receive $100 and the newly created Marius P. Hanford IV Award. Marius was a longtime stage combat choreographer influential in several theater communities, including Jackson and New York. The second and third finalists will be awarded $50 each.
Shorts Play descriptions:

Love, Radio, & Zombies (kind of…) by Anne Marie Wells and Angel May Wise, directed by Michael Jerome Johnson
The day of the zombie apocalypse radio drama series finale, radio actors decide if they will leave their complacent worlds and take a risk on love.  Featuring Anne Marie Wells, Chris Eichelberger, Diana Edlinger, and Jason Suder.

Family Bonds written and directed by Evie Lewis and Stephen Lottridge
The play is a dark comedy about three siblings' last visit to their family's forest service cabin after the death of their father bringing out the worst in their family dynamics.  Featuring Patrick Nolan, Kari Hall, and Stephanie Capps.
Pretty Little White Heads, by Rebecca Ryland, directed by Henry Raynor Williams, asst. directed by Michael Jerome Johnson
It's a special day, perhaps an historical day, as four young women embark on a picnic high on hill overlooking the crowd gathered below.  Through provocative dialogue they learn more about each other than they had anticipated.  Featuring Annessa Melnick, Hilary Camino, Delia Compton, and Hannah Martinelli
Tickets are available in advance at online at www.riotactinc.org or at the door.  Tickets are $15 for adults, $12 for students/seniors.
Brand new, re-designed Riot Act, Inc. T-shirts and Concessions will be available before each performance and during intermission.
Short plays allow the audience to taste several small bites of theatre in one evening.  Mature content, parental guidance is suggested.  Please join us on the stage!  For more information, contact riotactinc@earthlink.net.
Hope to see you there!
*Project made possible by grants from Wyoming Arts Council/NEA, Cultural Council of JH, and Your Old Bill's donations.