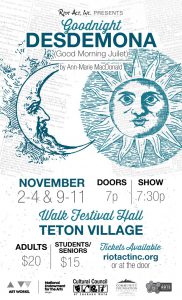 Riot Act, Inc. Presents Goodnight Desdemona (Good Morning Juliet)
by Ann-Marie MacDonald
What: Goodnight Desdemona (Good Morning Juliet) by Ann-Marie MacDonald
When: Show runs Thurs. Nov. 2  – Sat. Nov. 4 and Thurs. Nov. 9  – Sat. Nov. 11,
doors at 7 p.m., curtain at 7:30 p.m             
Where: Walk Festival Hall – Teton Village
Tickets: $15 students/seniors or $20 adults available in advance at www.riotactinc.org or at the door
Riot Act Inc.'s first production of our 15th season, Goodnight Desdemona (Good Morning Juliet) by Ann-Marie MacDonald, runs Nov. 2-4 and 9-11 at Walk Festival Hall in Teton Village.
In this exuberant comedy and original revision of Shakespeare's Othello and Romeo and Juliet — Constance Ledbelly, a drab and dusty academic, deciphers a cryptic manuscript she believes to be the original source for the tragedies, and is transported into the plays themselves. She visits Juliet and Desdemona, has a hand in saving them, and finds out what these women are about. In true Shakespearean spirit, Constance plunders the plays and creates something new, all the while engaging in a personal voyage of self-discovery. With an abundance of twists, fights, dances, seductions, and wild surprises, the play is an absolute joy of theatricality.  ~ Samuel French
Helmed by veteran director Macey Mott, Goodnight Desdemona boasts a wonderful cast including  Michael Yin, Christopher Eichelberger, Laruen Dierkes, Angel Dillon, Kelsey Johnson, Frankie McCarthy, Prince, Jessica Schiers, and Henry Raynor Williams.
Tickets are available in advance online at www.riotactinc.org or at the door and cost $20 for adults or $15 for students/seniors..
Brand new, re-designed Riot Act, Inc. T-shirts and Concessions will be available at the concession stand before each performance and during intermission.
For more information, contact riotactinc@earthlink.net.
Hope to see you there!
*Project made possible by grants from Wyoming Arts Council/NEA, Cultural Council of JH, Community Foundation of JH, and Your Old Bill's donations.