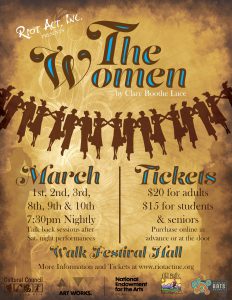 Riot Act, Inc. Presents The Women by Clare Boothe Luce
Riot Act Inc.'s second production of our 15th season, The Women by Clare Boothe Luce, runs March 1-3 and 8-10 at Walk Festival Hall in Teton Village.
The Women by Clare Boothe Luce:  What better way to celebrate a season that focuses on women in theater than this large all female cast production.
The author carries us through a number of varied scenes and shows us not only a somewhat unflattering picture of womanhood, but digging under the surface, reveals a human understanding for and sympathy with some of its outstanding figures. The plot involves the efforts of a group of women to play their respective roles in an artificial society that consists of vain show, comedy, tragedy, hope and disappointment. ~ Samuel French.
Helmed by director Deborah Supowit, boasts a wonderful cast including, Margaret Gordon, Lauren Dierkes, Angel Dillon, Kathleen Godines, Tenessa Singleton, Charley Daveler, Mila Berry, Kayla Dabel, Karissa Dabel, Rosalyn Moynihan, Lynne Matthews, Kelly Hubbell, Lauren Owens, Linda Rode, Patty Krause, Delia Compton, Emma Dillon, Christie Reinhardt, Ingrid Daffner Krasnow
Tickets are available in advance online at www.riotactinc.org or at the door and cost $20 for adults or $15 for students/seniors.
Brand new, re-designed Riot Act, Inc. T-shirts, Riot Act, Inc. Stickers and Concessions will be available at the concession stand before each performance and during intermission.
For more information, contact riotactinc@earthlink.net.
Hope to see you there!
*Project made possible by grants from Wyoming Arts Council/NEA, Cultural Council of JH, Community Foundation of JH, and Your Old Bill's donations.