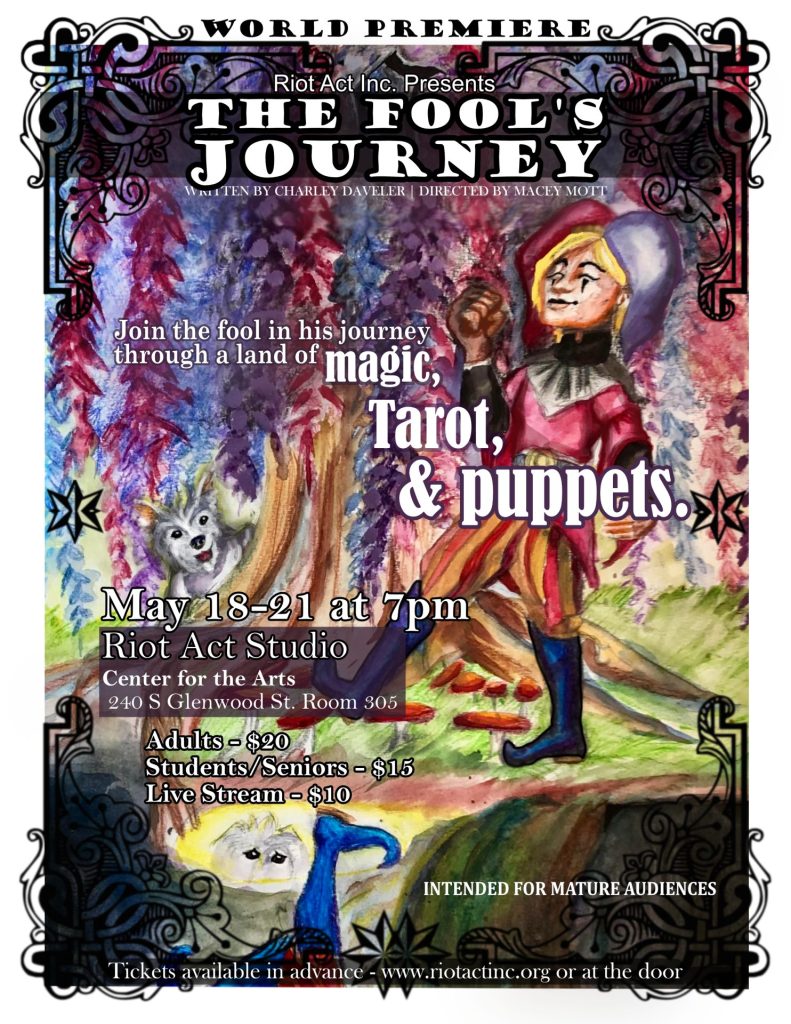 Riot Act, Inc. presents The Fool's Journey by Charley Daveler in Riot Act's Studio. The show will run May 18-21 at 7:00pm. Tickets may be purchased on our website www.riotactinc.org: $20 for adults or $15 for students/seniors or $10 for Live Stream
Join the fool on his journey through a land of magic, Tarot, and puppets. This brand new theatrical production tells the story of the Fool's Journey, the universal allegory of life's lessons told in the illustrations of the Rider Waite Smith Tarot deck. The play follows the Fool, chasing after a missing Princess and combating a series of puppet monsters and mentors along the way.
The show is helmed by veteran director Macey Mott and visual artist / playwright Charley Daveler.  The show boasts a wonderful cast including Aaron Hawkins, Margaret Gordon, Deborah Supowit, Celia Ward, Chloe Freitas, Dolan Kinney, and Sophie Nielsen.
Tickets are available in advance online at www.riotactinc.org and cost $20 for adults or $15 for students/seniors or $10 for Live Stream. Riot Act, Inc. T-shirts, Riot Act, Inc. Stickers and Concessions will be available before each performance and during intermission.
**This production included explicit language and adult situations. Parental Guidance suggested.**
For more information, contact info@riotactinc.org or 307-203-9067. Hope to see you there!
*Project made possible by grants from Arts for All, Community Foundation of JH, and Your Old Bill's donations.*
Hope to see you there!