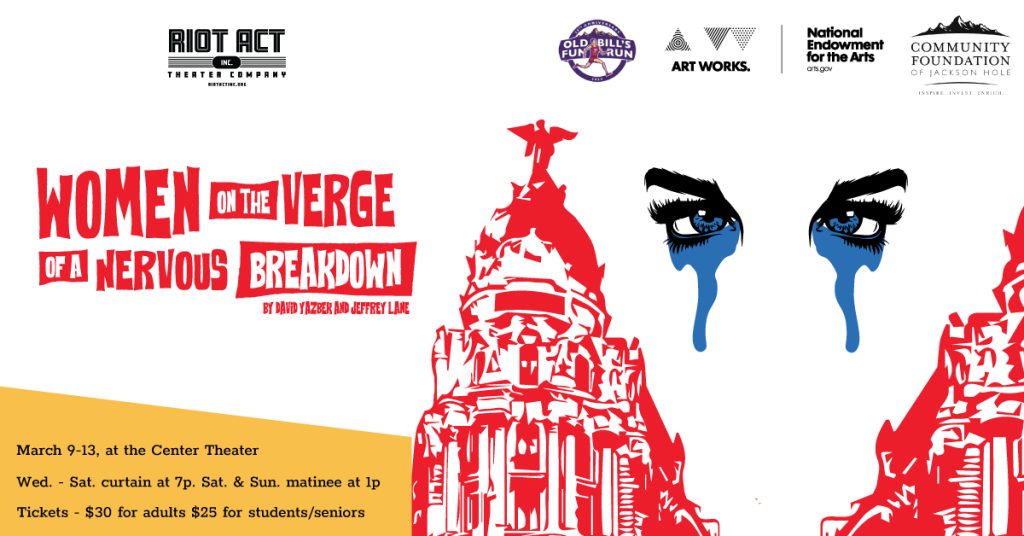 Riot Act, Inc. presents Women on the Verge of a Nervous Breakdown by David Yazbek and Jeffrey Lane on The Center Main Stage. The show will run March 9-12 at 7:00pm, matinees March 12 & 13 at 1:00pm. Tickets may be purchased at The Center Box Office: $30 for adults or $25 for students/seniors.
Play description:
Gazpacho, anyone? A musical adaptation of Pedro Almodóvar's beloved film of the same name, Women on the Verge of a Nervous Breakdown is the brainchild of the talented team behind Dirty Rotten Scoundrels. Preserving the unusual and exhilarating tone and style of the Oscar-nominated film, Women on the Verge will delight both fans of the film and newcomers to the raucous tale.
Both touching and hilarious, Women on the Verge is a story about women and the men who pursue them… finding them, losing them, needing them and rejecting them. At the center is Pepa, whose friends and lovers are blazing a trail through 1980s Madrid. Along with Pepa, there's her missing (possibly philandering) lover, Ivan; his ex-wife of questionable sanity, Lucia; their son, Carlos; Pepa's friend, Candela and her terrorist boyfriend; a power-suited lawyer; and a taxi driver who dispenses tissues, mints and advice in equal proportion. Mayhem and comic madness abound, balanced by the empathy and heart that are trademarks of Almodóvar's work. ~ MTI
The show is helmed by veteran director Macey Mott, music director Zachary Singer, stage manager Deborah Supowit, choreographer Abi Domingue, vocal director Hilary Camino, and fight director Michael J. Johnson.  The show boasts a wonderful cast including Lynnette Parry, Sarah Hollands, Karissa Dabel, Ingrid Krasnow, Elise Mumford, Jordan Mayo, Jeffrey Scott Stevens, Aaron Hawkins, Celia Ward, Siddney Montana, Ian Chapman, Linda Rode, and Lauren Arndt.
Tickets are available in advance online at The Center Box Office and cost $30 for adults or $25 for students/seniors. Riot Act, Inc. T-shirts, Riot Act, Inc. Stickers and Concessions will be available before each performance and during intermission.
**This production involves staged violence and explicit language. Parental Guidance suggested.**
For more information, contact info@riotactinc.org. Hope to see you there!
*Project made possible by grants from Arts for All, Community Foundation of JH, and Your Old Bill's donations.*
~By Special permission of Musical Theatre International~