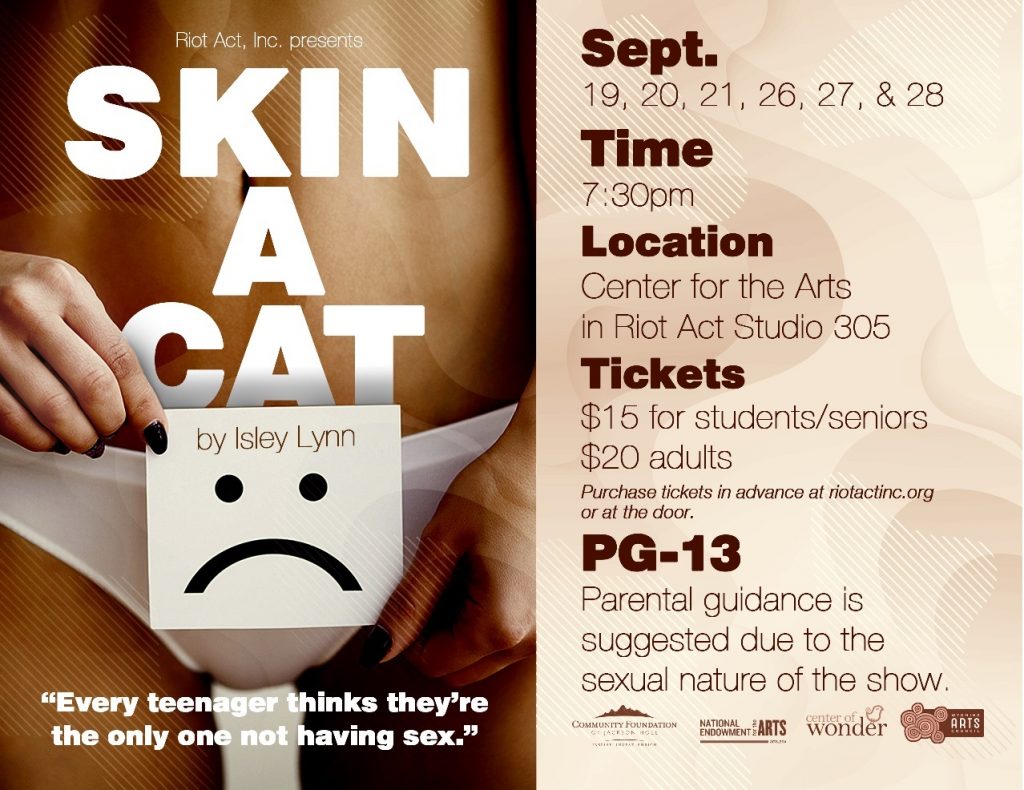 Riot Act, Inc. Presents Skin A Cat by Isley Lynn
What: Skin A Cat by Isley Lynn
When: Thurs. Sept. 19 – Sat. Sept. 21 and Thurs. Sept. 26 – Sat. Sept. 28, door open at 7pm with the show starting at 7:30pm
Where: Riot Act, Inc.'s Studio, room 305 at Center for the Arts
Tickets: $15 students/seniors or $20 adults available in advance at www.riotactinc.org or at the door
Riot Act Inc.'s opening production of our 17th season is Skin A Cat by Isley Lynn, running Sept. 19-21 & 26-28 in Riot Act, Inc.'s Studio 305 at Center for the Arts. This serio-comedic play shines a light on the realities of coming of age and how we all awkwardly navigate our sexual lives.
Play description:
Every teenager thinks they're the only one not having sex. But for Alana, it may well be true. Every time she gets close to doing it, something just seems to get in the way. Soon she can't help wondering: Is it this tricky for everyone else? Because no one ever said it was going to be this complicated. With a kaleidoscope of off-kilter characters, SKIN A CAT follows Alana on an awkward sexual odyssey: from getting her first period at nine years old and freaking out her frantic mother, to watching bad porn at a house party with her best friend's boyfriend, to a painful examination by an overly cheery gynecologist – all in the pursuit of losing her virginity and finally becoming a woman. Whatever that means….
~ Dramatist Play Service
Helmed by veteran director Macey Mott and intimacy director Samantha Kaufman, the show boasts a wonderful cast including Angel May Wise, Charley Daveler, and Bradley Smith.
Tickets are available in advance online at www.riotactinc.orgor at the door and cost $20 for adults or $15 for students/seniors. Riot Act, Inc. T-shirts, Riot Act, Inc. Stickers and Concessions will be available at the concession stand before each performance.
This play is sexually explicit.
Parental guidance is suggested due to sexual references adult content.
For more information, contact riotactinc@earthlink.net. Hope to see you there!
*Project made possible by grants from Wyoming Arts Council/NEA, Cultural Council of JH, Community Foundation of JH, and Your Old Bill's donations.*
~By Special permission of Dramatist Play Service~